Let's get things right from the beginning.
Instructional videos accompany our new customer forms, and we provide links to forms for the many government agencies regulating imports and exports.
(Adobe Acrobat Reader, or the Acrobat Browser plug-in, is required to view and print some of these forms. These are available for free from the Adobe website.)
For our New Customers:
New Customer Welcome Package
New Customer Information/Credit Application
Power of Attorney – Importing & Exporting
Power of Attorney for Canadian Brokers
Bond Application*
* Completion of a bond application is only necessary for customers wishing to purchase an annual, continuous bond.
Forms:
Proforma Invoice
Importer Security Filing "10+2" Template
Shipping Instructions Manifest
Shipper's Letter of Instructions
ACE/ACI eManifest Template
ACH Debit Application
Broker Known Importer Program (BKIP)
NAFTA Certificate of Origin & NAFTA Continuation Sheet
Canada Customs Invoice
Affidavit of Manufacture-single
Affidavit of Manufacture-blanket
Items with US Country of Origin – single
Items with US Country of Origin – blanket certification
Request for In-Bond Initiation/Arrival/Exportation
Seafood Import Monitoring Program (SIMP) of the National Marine Fisheries Service (NMFS)
FSVP Instruction Letter
FDA Prior Notice Form & Instructions
FDA Template – Dietary Supplements
FDA Template – Drugs, Intended Use
FDA Template – Medical Devices
DEA Instruction Letter
Textile Declaration Form
Footwear Import Form
Repair or Alteration Declaration HTS 9802
Declaration for Free Entry
Declaration for Free Entry of Returned American Products
Declaration of Owner (For Merchandise Obtained (Otherwise Than) in Pursuance of a Purchase or Agreement to Purchase
Foreign Shipper Declaration
Owner, Importer, Consignee Declaration, 19CFR10.1(a)(2)
Application for Exportation of Articles Under Special Bond
Certificate of Registration
Special Address Notification
Create/Update Importer Identity Form, CF 5106
Entry and Manifest of Merchandise Free of Duty, Carrier's Certificate and Release
DOT HS-7
DOT Template – NHTSA
EPA Form 3520-1 (Light duty/on road)
EPA Form 3520-21 (Heavy duty highway/off-road)
TSCA Import Certification Form
TSCA Section VI – Formaldehyde Emissions for Composite Wood Products
Lacey Act Form 2020
Lacey Act Continuation Form – 1 – 2020
Lacey Act Form – Completed 2020
Lacey Act – Plant Genus and Species (resource page)
Census Warning Information Sheet
Bearings Required Additional Information
Statement of Use: Temporary Import Bond 19CFR10.31
Blanket Statement of Non-Applicability of Antidumping or Countervailing Cases to Imported Merchandise
Blanket Statement of Non-Reimbursement
Government Agency Links:
US Customs and Border Protection Forms
US Customs and Border Protection Importing and Exporting
Food and Drug Administration
US Department of Agriculture
National Traffic Highway Safety Administration
Environmental Protection Agency – TSCA
Environmental Protection Agency – Vehicles
Environmental Protection Agency – Annual Certification Data, Vehicles, Engines & Equipment
Canada Border Services Agency
US International Trade Commission – Harmonized Tariff Schedule
US Schedule B
Canada Border Services Agency – Customs Tariff
Deringer Tools–Using eShipPartner® Invoice Guides:
How to Register & Log-in
Navigating the Invoice Entry
How to Add Classification Lines
Using Templates
Using Templates–Adding Lines
Lacey Act, Required Information
Lacey Act, Adding New Products
Lacey Act, Adding Previously Used Products
Guides: How to Complete Forms
Learn how to complete our new customer credit application form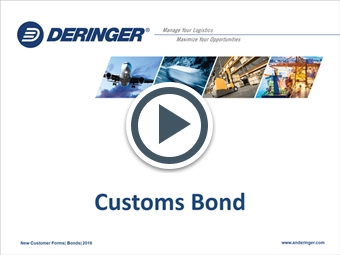 Find out more about Customs Bonds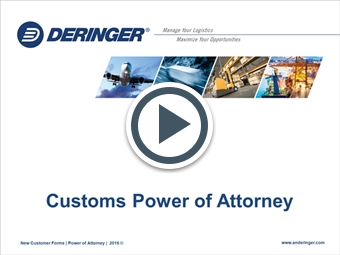 Let us walk you through the Power of Attorney form