Let's get things right from the beginning.
Instructional videos accompany our new customer forms, and we provide links to forms for the many government agencies regulating imports and exports.
(Adobe Acrobat Reader, or the Acrobat Browser plug-in, is required to view and print some of these forms. These are available for free from the Adobe website.)
Please note: ONLY customers that have a valid, current Deringer employee contact name clearly delineated on the credit application will be accepted and processed. New customers must have an authorized Deringer representative provide verification of our service arrangement prior to any shipment(s) or entry processing.
* Completion of a bond application is only necessary for customers wishing to purchase an annual, continuous bond.
Forms:
Helpful Links:
Guides: How to Complete Forms
Learn how to complete our new customer credit application form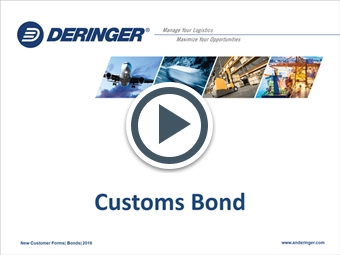 Find out more about Customs Bonds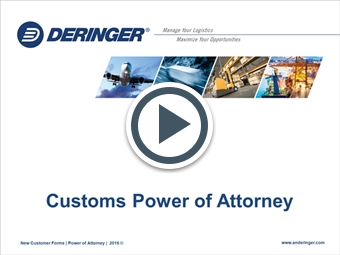 Let us walk you through the Power of Attorney form